New Untouchables Reviews Last Man On Earth Album Big Boss Man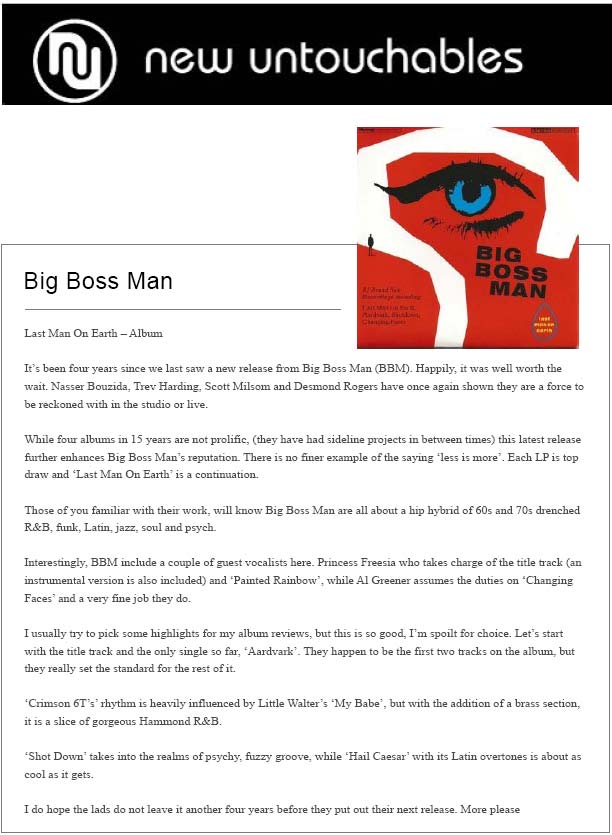 Published on 19th September 2014 (UK)
Media title : New Untouchables
Author : Graham Lentz
Big Boss Man
Last Man On Earth – Album
It's been four years since we last saw a new release from Big Boss Man (BBM). Happily, it was well worth the wait. Nasser Bouzida, Trev Harding, Scott Milsom and Desmond Rogers have once again shown they are a force to be reckoned with in the studio or live.
While four albums in 15 years are not prolific, (they have had sideline projects in between times) this latest release further enhances Big Boss Man's reputation. There is no finer example of the saying 'less is more'. Each LP is top draw and 'Last Man On Earth' is a continuation.
Those of you familiar with their work, will know Big Boss Man are all about a hip hybrid of 60s and 70s drenched R&B, funk, Latin, jazz, soul and psych.
Interestingly, BBM include a couple of guest vocalists here. Princess Freesia who takes charge of the title track (an instrumental version is also included) and 'Painted Rainbow', while Al Greener assumes the duties on 'Changing Faces' and a very fine job they do.
I usually try to pick some highlights for my album reviews, but this is so good, I'm spoilt for choice. Let's start with the title track and the only single so far, 'Aardvark'. They happen to be the first two tracks on the album, but they really set the standard for the rest of it.
'Crimson 6T's' rhythm is heavily influenced by Little Walter's 'My Babe', but with the addition of a brass section, it is a slice of gorgeous Hammond R&B.
'Shot Down' takes into the realms of psychy, fuzzy groove, while 'Hail Caesar' with its Latin overtones is about as cool as it gets.
I do hope the lads do not leave it another four years before they put out their next release. More please.