ABOUT BLOW UP RECORDS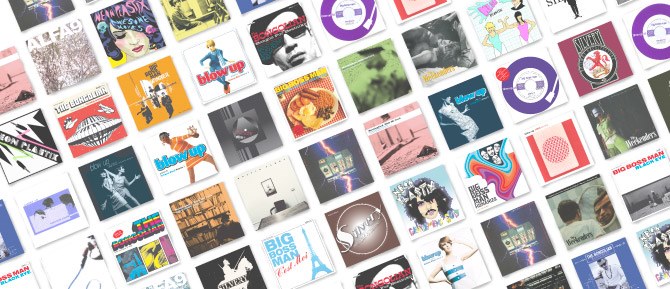 LABEL HISTORY
Blow Up Records is a London based independent record label run by Blow Up Club founder Paul Tunkin in 1994. Now in its 25th year it will celebrate with a special concert in London at the 100 Club Thursday 24th October 2019. Music styles on the label have ranged from Boogaloo, Funk, Soul, Latin Soul, New Wave, Alternative Pop, Britpop, Indie and Electronic Music. It is run by the same team that brings you the legendary Blow Up Club night (1993 to present) who in addition also promoted and ran The Metro Club on Oxford Street London (2001-2009). Blow Up Records is responsible for compilations such as the ground-breaking "Exclusive Blend" music library series, 'Blow Up A-Go-Go: Blow Up Dancefloor Classics' and various limited seven inch singles featuring bands from across Europe and the UK. Blow Up began with singles release for the Weekenders in 1994 and soon released the first Add N to X album and Exclusive Blend volume 1, over the subsequent years Blow Up has released artist albums for a diverse selection of acts including Alfa 9, Baltic Fleet, Big Boss Man, The Bongolian, Daiquiri Fantomas, Silvery, Mockingbird, Wish Me Luck, Neon Plastix, David Woodcock and more. Launched in 1996, a sister company Blow Up Songs was launched to deal with music publishing for the labels artists.
2013
2013 saw Baltic Fleet win this year's Liverpool GIT Award, be nominated for Liverpool Music Awards Album of The Year (along side Miles Kane and Ian Skelly) and perform at Yoko Ono's Meltdown (more / listen). After a long haitus Alfa 9 returned with the stripped back West-Coast influenced second album Gone To Ground and swung back into live action (more / listen).
2013 also saw two debut releases for new signings Daiquiri Fantomas and David Woodcock. Sicilian experimental duo Daiquiri Fantomas released their debut album 'MHz Invasion' this August, including the fantastic 'Moogchile' described as 'Air meets John Barry' (more / listen). Essex-based singer-songwriter David Woodcock released his debut single 'Same Things', and the ltd. 7″ 'Tease' (more / listen). Whilst Fay Hallam continued her UK & European tour dates in support of last year's 'Lost In Sound' (more / listen). Meanwhile both Big Boss Man and The Bongolian have been touring around Europe, whilst The Bongolian returned for two storming sets at Blow Up this October and December.
Read our 2013 Year Review here and listen to our track highlights on YouTube, Spotify & more…
2012
2012 has currently one of the labels busiest schedules to date, with the debut release from Fay Hallam and The Bongolian with their Lost In Sound album, Baltic Fleet's second album 'Towers' which has already been tipped as an album of the year by Louder Than War magazine and was recently a Rough Trade Shops album of the week. After a long hiatus, Alfa 9 return with their second album the 'Gone To Ground', which has already been strongly tipped in Shindig! Magazine ahead of release. Nick Terry is completing mixing in Norway for the debut album from Sicilian duo Daiquiri Fantomas, and Southend singer-songwriter David Woodcock is currently recording his debut album for Blow Up in his hometown: both being new signings for 2012. Big Boss Man are back in the studio working on their fourth album for the label. …And there's more projects in the pipeline to be announced soon.
2011
2011 has been a quieter year for album releases with most artists writing or recording, the only album release coming from The Bongolian who released his fourth – the highly acclaimed 'Bongos For Beatniks'. In February, Blow Up hosted a night at HMV's annual Next Big Thing with artists The Bongolian, Baltic Fleet and Silvery appearing live together. Whist tracks from these bands gained support at BBC 6 Music – Silvery's single Two Halves Of The Same Boy making the playlist for a month at the station, The Bongolian was interviewed by Nemone on her daytime show on the day of the concert with Baltic Fleet gaining several plays across on the station of tracks from the debut album and 3 Dollar a Dress being picked up and used as a sound bed for a 6 Music ad campaign.
2010
Releases by Silvery 'Railway Architecture' which received several glowing 4/5 reviews in the UK music press and great support at BBC6 Music whilst the debut album from Neon Plastix 'Awesome Moves' was released, several tracks from which have gone on to being key music placements in US film and TV.
2009
This June Silvery follow up last year's releases with their 5th single 'The Nishikado E.P.' and Sweden's Mockingbird, Wish Me Luck release their second single 'Moves On The Screen'. Big Boss Man will be releasing their eagerly awaited 3rd album this Summer – stayed tuned for more details soon! In the meantime check out Blow Up Artists Live, subscribe to our mailing list, RSS feed or join us on myspace, facebook (group, fan page), twitter or more.
2008
2008 has been the most release-packed year yet for Blow Up with several debuts including the Kraut Rock inspired Baltic Fleet (his self-titled debut No. 29 Rough Trade's Top 50 Albums of 2008 & in Piccadilly Records Top 100 Albums of 2008), London artrockers Silvery (album 'Thunderer & Excelsior' No.19 Artrocker's Albums of The Year 2008, a BBC 6Music Album of the Day and more) and indie-pop from Sweden's Mockingbird, Wish Me Luck ('Days Come And Go' album placed in one of the Top 4 Albums of 2008 lists in Sweden's national daily Sydsvenskan and described as "an album to pay attention to" by AllMusic). Big Boss Man's Nasser Bouzida also found time to release the third album by his alter-ego The Bongolian ("A Latin-flavoured jazz-funk odyssey" Q magazine) which has been winning fans worldwide. Stay tuned for 2009!
2007
The ever prolific Mr. Bouzida has just finished mixing his third Bongolian album with Nick Terry (Bongolian, Klaxons, Libertines) so stay tuned for this release (check his myspace for previews), and new signing Baltic Fleet is currently mixing his debut with Nick too. Sticking with the album theme we'll also be reissuing our 'Blow Up presents Exclusive Blend' series (a relief as some have been fetching up to £100 on eBay!), and nicely timed too as The KPM Allstars featured on Volumes 1 and 2 have been chosed to perform at Jarvis Cocker's Meltdown this June.
2005 – 2006
Over the last couple of years the we've released several one-off singles including UK debuts for Swedish bands CDOASS and Strip Music, and British acts Eight Legs and The Rifles (Blow Up 45 Series). We also released singles for Doncaster electro/pop group Neon Plastix and saw the Big Boss Man track 'Party 7' picked up for Nike's worldwide World Cup campaign. Their 2001 album 'Humanize' that this was taken from was previously used as the soundtrack for the 1999 short film 'Sweet' featuring the Mighty Boosh too (available for the first time this year). We also released the long-awaited follow-up to The Bongolian's first album in 2006 'Blueprint', as well as the debut album for new psychedelic signings Alfa 9 titled 'Then We Begin'.
2004
This year has seen Blow Up move UK distribution to Cargo (UK) along with the long-awaited new BBM album in the works.
2000-2001
Year 2000 saw the finalisation of a new distribution deal with Vital, and now sees Blow Up Records set to return with its strongest set of new releases to date, strengthening further the synergy between the label and club. These include a new 7″ series entitled 'Blow Up 45', Exclusive Blend Vol.3 and the debut album 'Humanize' from new signings Big Boss Man.
1998
1998 saw the first release from a new series of limited 7″ singles called 'Blow Up 1000 Series', which aimed to showcase a diverse range of international talent in the UK. To date, there have been four releases in this Series, including Capri, Lucky 15 and highly-acclaimed Scandinavian acts Komeda and The Elevators as well the popular Katerine, from France. The third single, which featured Komeda, sold out of its limited run of 1000 copies in one week. During this period another one-off single 'Yellowmaddacoolivision' (not part of the 1000 Series) was also released for a UK band called 'Cuff' who received massive MTV support and went on to sign to Atlantic Records in the US.
September 1997 saw the release of Exclusive Blend Vol.2, making further inroads into the world of the Music Library. The album was again compiled by Paul, this time from several libraries – deWolfe, Amphonic and the now familiar KPM, and once again included tracks from many great music library theme writers including Keith Mansfield, Alan Hawkshaw, and Syd Dale, ranging from the Hammond-Heavy classic 'Soul Skimmer' to the spaced-out tribal funk of Nick Ingam's 'Tripwire'. The album quickly built on the success of its predecessor and gained an extra boost when the album's opening track 'Wild Elephants' was picked up by The Gap, and used as the theme their 'Khaki A-Go-Go' ad campaign of Summer 1999. A scramble quickly ensued to obtain the rights for releasing the track as a single, now re-titled 'Blow Up A-Go-Go!', which went on to be released by V2 Records in conjunction with Blow Up in September 1999. A club compilation followed in the November called 'Blow Up A-Go-Go! – Dancefloor Classics from the legendary Blow Up club' (using the single as its title track), featuring classics both new and old that have filled the Blow Up Club Dancefloor. The album received massive support from Club Djs, receiving rave reviews from the listings magazines Time Out and Hot Tickets, as well as Mojo and The Sunday Times, to name but a few. The album also received the 'best response to an album that he'd ever seen' according to Chris at Renegade Promotions (formerly at Wild), gaining an amazing overall average Dj reaction rating of 9 out of 10
1995-97
However, it was not the Weekenders' second release in March 1995, that Blow Up Records released a single via a distributor, SRD. Also a limited run, 'Man of Leisure' sold out of its 3700 pressing in two weeks. The third release in July 1995 'Inelegantly Wasted' was awarded Single of the Week in Melody Maker, sold out of its 6500 pressings and went straight into the Indie Charts at No.s 3 & 4 (NME and Melody Maker respectively).
That summer Paul laid the foundations for the release of other projects outside of the band, most of these being undertaken on a one off basis.The first of these releases was the debut release from a London based electronic three piece named 'Add N To X', a band who had just recently changed their name from Raddix Couplement and shed a member Justin Anderson. The band which comprised of Barry Smith, Andrew Averling and Ann Shenton, went to a Sheffield studio with engineer Parrot (All Seeing Eye) to record their debut release. Entitled 'Vero Electronics', it stated clearly their commitment to electronic experimentation from the outset, coining the phrase 'This is Avant Hard Music'.
Soon after this, a compilation of Weekenders singles and B-sides followed in early 1996. Intended as an introduction for overseas markets and as a forerunner to a studio album proper, the compilation also served to make the early singles more widely available then the early limited pressings had allowed. The 'forthcoming' studio album from The Weekenders, is still unrecorded to date, due to Paul's commitment to Blow Up club/label activities.
August 1996 saw Blow Up Records broaden its musical spectrum once again, to include more club based music, with the release of Exclusive Blend Vol. 1. The compilation was taken from the 60s and 70s library archives of the KPM Music Library , and one of the first compilations dedicated to this genre. Music on the album ranged from Hammond-Heavy 60s R'n'B to brassy Club Pop, mostly of which had never been commercially released before. Quickly gaining international recognition as a ground breaking compilation introducing the world to the hidden delights of library music, whilst also serving as a taster for just one aspect of the sounds that could be heard at the Blow Up club night. The album continues to sell, already having sold 12,000 copies. Over the next two years from August 96 to June 98, Blow Up released a further eight releases. These included a spin off single from Add N To X members principally centred around Andrew Averling under the name 'VA6' titled 'He Plays Like A Disease'.
1994
Blow Up Records made is first tentative steps into releasing records in May 1994 with the debut release from the Weekenders – a limited run of 1000 7″ pressings, entitled 'All Grown Up'/ Househusband'. The label was initially set up by Paul Tunkin, promoter of the Blow Up Club, as a means for his group The Weekenders to release their music. Sales of the initial 1000 pressing picked up speed over the following months via mail-order and Camden's legendary 'Out On the Floor' record shop. This shop was also originally where the label ran its operations from, as well as playing host to many cramped Weekenders' rehearsals. With the band's inclusion of a track on the Fierce Panda Return to Splendour EP (also notable for including the debut release from The Bluetones), 'Seems you've missed Sunday', alongside the massive re-emergence of British pop scene. Interest was beginning to mount.