Subba-Cultcha Towers Baltic Fleet Review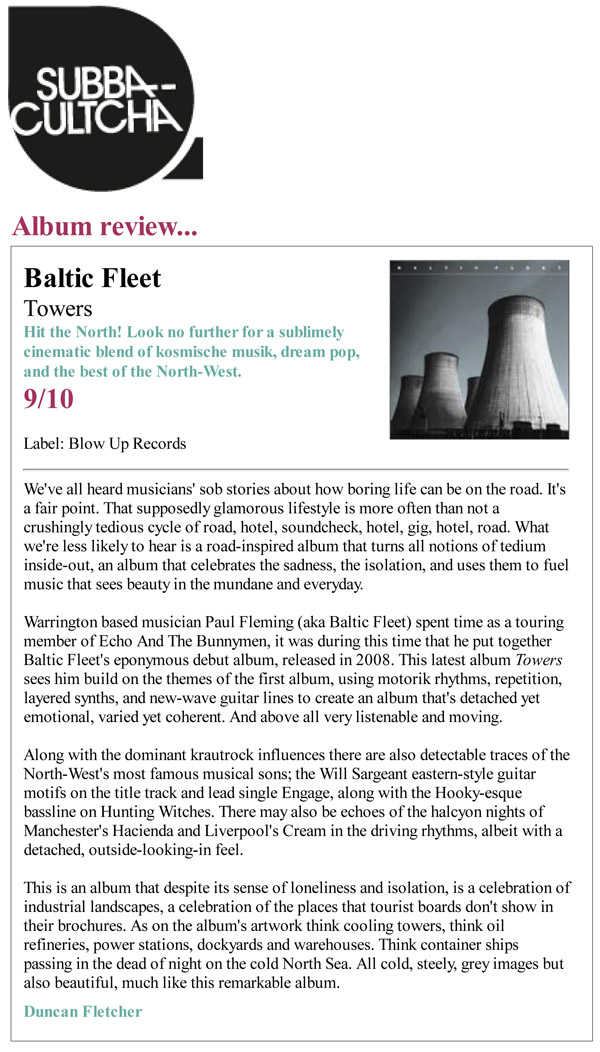 Published on 20th July 2012 (UK)
Media title : Subba-Cultcha
Author : Duncan Fletcher
Towers
Hit the North! Look no further for a sublimely cinematic blend of kosmische musik, dream pop, and the best of the North-West.
9/10
---
We've all heard musicians' sob stories about how boring life can be on the road. It's a fair point. That supposedly glamorous lifestyle is more often than not a crushingly tedious cycle of road, hotel, soundcheck, hotel, gig, hotel, road. What we're less likely to hear is a road-inspired album that turns all notions of tedium inside-out, an album that celebrates the sadness, the isolation, and uses them to fuel music that sees beauty in the mundane and everyday.
Warrington based musician Paul Fleming (aka Baltic Fleet) spent time as a touring member of Echo And The Bunnymen, it was during this time that he put together Baltic Fleet's eponymous debut album, released in 2008. This latest album Towers sees him build on the themes of the first album, using motorik rhythms, repetition, layered synths, and new-wave guitar lines to create an album that's detached yet emotional, varied yet coherent. And above all very listenable and moving.
Along with the dominant krautrock influences there are also detectable traces of the North-West's most famous musical sons; the Will Sargeant eastern-style guitar motifs on the title track and lead single Engage, along with the Hooky-esque bassline on Hunting Witches. There may also be echoes of the halcyon nights of Manchester's Hacienda and Liverpool's Cream in the driving rhythms, albeit with a detached, outside-looking-in feel.
This is an album that despite its sense of loneliness and isolation, is a celebration of industrial landscapes, a celebration of the places that tourist boards don't show in their brochures. As on the album's artwork think cooling towers, think oil refineries, power stations, dockyards and warehouses. Think container ships passing in the dead of night on the cold North Sea. All cold, steely, grey images but also beautiful, much like this remarkable album.