Blow Up A-Go-Go! Dancefloor Classics
Cat. No: GOGO
UK release date: 15/11/1999
Formats: CD, DLP
Status: Out Soon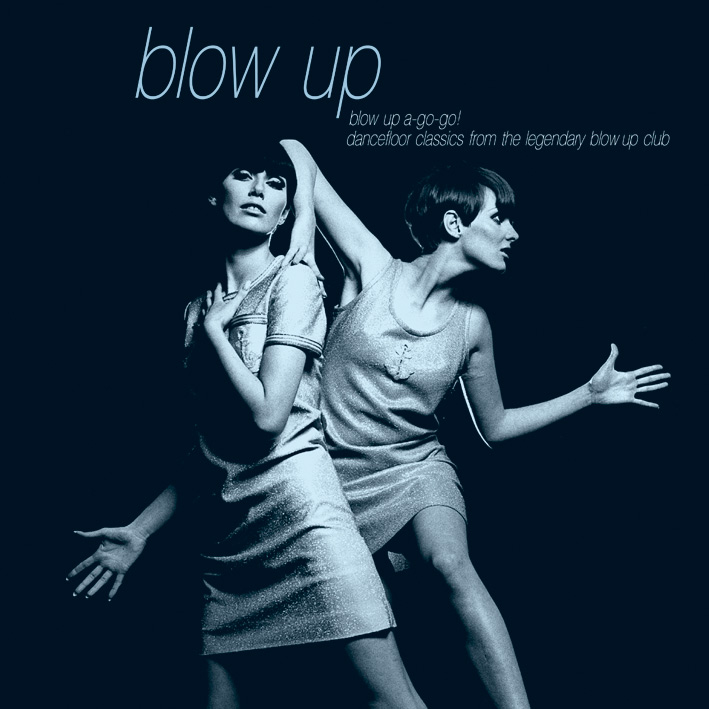 Bert's Apple Crumble The Quik
Blow Up A-Go-Go! James Clarke
Somebody Stole My Thunder Georgie Fame
Sweet Pea Soul Hooligan
Love Potion #9 The Coasters
Watts Breakaway The Johnny Otis Show
I'm A Man The Spencer Davis Group
Cloud Nine Mongo Santamaria
Bongolia The Incredible Bongo Band
Sahara 72 The Bobby Hughes Experience
Exploration The Karminsky Experience
The Beat Goes On Buddy Rich
House Of Bamboo Andy Williams
Psychedelic Sally Eddie Jefferson
25 Miles Edwin Starr
Soul Time Shirley Ellis
Le Responsable Jaques Dutronc
She's Got Everything The Kinks
Shake Shadows Of Knight
Humanize Big Boss Man
This album was released in November 1999 in conjunction with V2 Records as a collection of some of the classic tracks that have been essential to the sound and legend of the Blow Up club, and as a result the compilation has become legendary in its own right.
Covering Sixties Soul and R'nB, Dancefloor Jazz, Easy Listening, Northern Soul, Soundtracks, Gritty Hammond Grooves, and featuring classics both new and old that have filled the Blow Up Dancefloor over the years, Blow Up A-Go-Go! introduced such delights as The Quik's 60s mod classic 'Bert's Apple Crumble', The Kinks B-Side 'She's Got Everything', Jacques DuTronc's 'Le Responsable' and more to a much wider audience for the first time. Since its release, many of the tracks have become even more recognisable from their subsequent use on various TV adverts.
The compilation takes its title from the second track 'Blow Up A-Go-Go!' which was taken from another label compilation Blow Up presents Exclusive Blend Volume 2. The track was originally entitled 'Wild Elephants' (early pressings of Exclusive Blend list this original title) but was renamed as a thank-you after the track was picked up from the album and used by Gap jeans in their  'Khaki-A-Go-Go' 1999 TV ad campaign.
Released on CD and Double Vinyl, the album is currently deleted but very limited stock of both formats is available from the Blow Up shop.
Sleeve Notes
Vic Keary, co producer of The Quik's "Bert's Apple Crumble", claims the track was namd after the finest dessert in Bert's Cafe on the Old Kent Road around the corner to Maximum Sound Studio where this track was recorded. This tune, originally a B-side, kicks the album off to a storming start. James Clarke's "Blow Up A-Go-Go!", a music library track found one morning at a North London boot fair, became a firm club favourite before it's inclusion on the "Blow Up Present's Exclusive Blend Vol.2" album. It was from there that the Gap clothing company picked up on the track for their "Khaki-A-Go-Go" TV campaign of Summer '99. On its commercial release, and as a thankyou from the publisher Ian Dale for its revival, the track became renamed after the Blow Up club night. Georgie Fame, or Clive Powell as he is known to his friends, performed regularly at the Flamingo in Soho, recording a classic live album there with his backing group the Blue Flames. The Flamingo has long since gone, but just above it in what once was known as the Whisky-A-Go-Go, is of course, the location of the Blow Up club's Saturday night residency.
Thirty years later its good to know that Somebody Stole My Thunder can still work an audience in the very same building. Soul Hooligan's Sweet Pea, couldn't help but be included when it contains such samples as the Dean Parrish northern soul classic "I'm On My Way" and the Mohawks' "The Champ" – two tracks often found on the club decks in their original form."Watts Breakaway" by The Johnny Otis Show, is apparently about a dance craze sung by a Greek Cypriot and one time preacher Johnny Otis, inspired by the low rent riot torn ghetto of the Watts Projects, LA. A teenage Stevie Winwood and Stones/Primals producer co wrote the ever popular and supremely confident Spencer Davis Group hit "I'm A Man". The Incredible Bongo Band's "Bongolia", as with their version of The Shadows "Apache", became an inspiration to the early Hip Hop scene for its ample sumply of breaks, whilst proving a great club track in its own right. This one time Motown session group possibly performed backing on The Temptations' "Cloud Nine", which Cuban percussionist and 1950s U.S. emigre Mongo Santamaria reinterprets here.
The BOAC jet-setting duo and resident Blow Up djs The Karminsky Experience are on fine form with "Exploration" taken from their debut E.P. The twelve year old daughter of jazz drummer extraordinaire Buddy Rich is the vocalist on this version of "The Beat Goes On" before it was a twinkle in the All Seeing I. This compilation would not have been complete without Andy Williams' "House Of Bamboo", a regular fixture at Blow Up and a defining moment from the early days. It was recorded in the late Fifties, possibly inspired by a TV show/film of the same name and is the earliest recorded track on the album. Shirley Ellis had a minor hit with the 'Clapping Song' but to many soul fans "Soul Time" is the track that she will be remembered best for. "Jaques Dutronc", French sixties heart-throb and beat superstar immortalised in Cornershops' "Brimful Of Asha" by the line "Jaques Dutronc and the Bolan boogie…" injects some cool gallic charm into the proceedings with "Le Responsable". On a final note, there's Big Boss Man. Their contibution "Humanize" was recorded in drummer/keyboard/vocalist (but not at the same time!) Nasser's bedroom. Definitely one to watch, they are have just recorded their debut album for Blow Up Records, so keep 'em peeled
WHAT THEY SAY
"Blow Up has been punching above its weight ever since it opened in 1993... 20 storming tracks"

none

Time Out
"An excellent introduction to the Blow Up sound"

none

Evening Standard, Hot Tickets
"London's famous Blow Up Club has been shaking dance floors on a weekly basis since the early 1990s. This collection will cause even the most cynical hips to shimmy"

none

Amazon.co.uk
"22-track collection from Soho's acclaimed Blow Up club. Like the night itself, the album trips across the decades..."

none

Q
"A delicious blend of the instantly familiar and obscure gems. The perfect getting-ready soundtrack for the discerning dancer"

none

MOJO
NEWS
28th Jul 2023
4th Nov 2022
16th Sep 2022
15th Sep 2022
10th Aug 2022
21st Jul 2022
14th Jul 2022
12th Jul 2022
11th Feb 2022
30th Nov 2021
16th Jul 2021
3rd Jul 2021
2nd Jun 2021
10th Mar 2021
9th Mar 2021
6th Mar 2021
23rd Dec 2020
23rd Dec 2020
21st Dec 2020
20th Dec 2020
18th Dec 2020
16th Dec 2020
11th Nov 2020
1st Oct 2020