Louder Than War Album Reviews: The Bongolian 'Moog Maximus'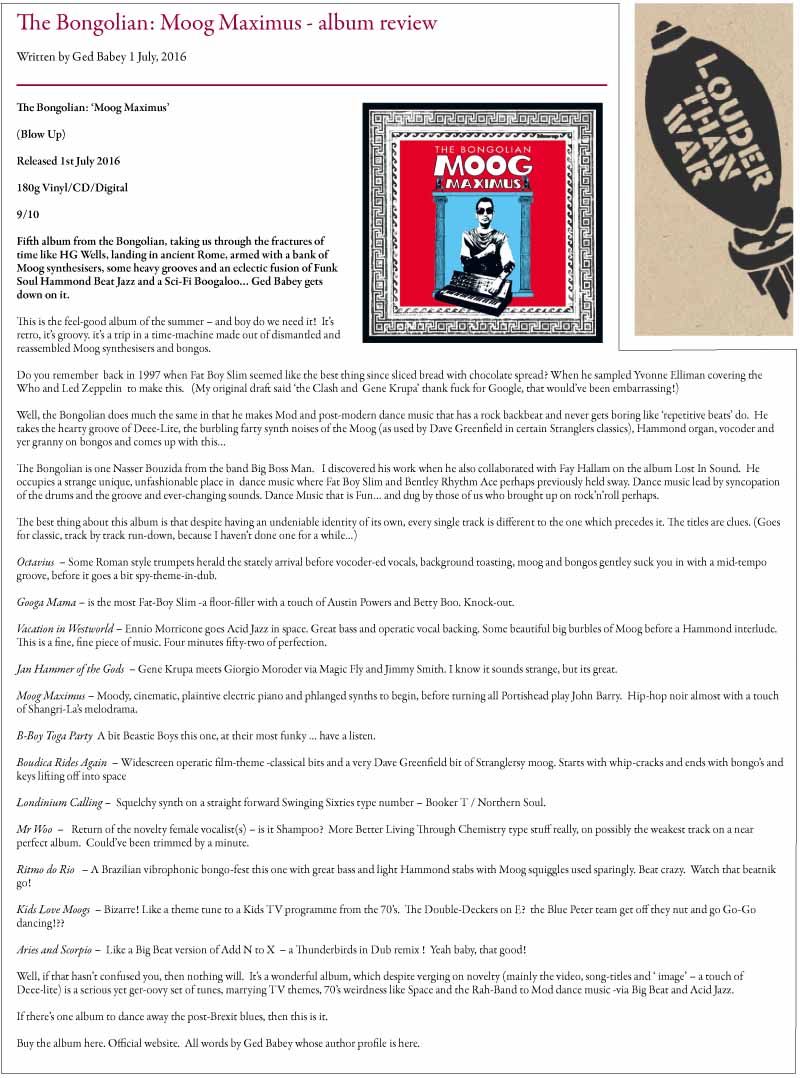 Published on 1st July 2016 (UK)
Media title : Louder Than War
Author : Ged Babey
9/10
Fifth album from the Bongolian, taking us through the fractures of time like HG Wells, landing in ancient Rome, armed with a bank of Moog synthesisers, some heavy grooves and an eclectic fusion of Funk Soul Hammond Beat Jazz and a Sci-Fi Boogaloo… Ged Babey gets down on it.
This is the feel-good album of the summer – and boy do we need it! It's retro, it's groovy. it's a trip in a time-machine made out of dismantled and reassembled Moog synthesisers and bongos.
Do you remember back in 1997 when Fat Boy Slim seemed like the best thing since sliced bread with chocolate spread? When he sampled Yvonne Elliman covering the Who and Led Zeppelin to make this. (My original draft said 'the Clash and Gene Krupa' thank fuck for Google, that would've been embarrassing!)
Well, the Bongolian does much the same in that he makes Mod and post-modern dance music that has a rock backbeat and never gets boring like 'repetitive beats' do. He takes the hearty groove of Deee-Lite, the burbling farty synth noises of the Moog (as used by Dave Greenfield in certain Stranglers classics), Hammond organ, vocoder and yer granny on bongos and comes up with this…
The Bongolian is one Nasser Bouzida from the band Big Boss Man. I discovered his work when he also collaborated with Fay Hallam on the album Lost In Sound. He occupies a strange unique, unfashionable place in dance music where Fat Boy Slim and Bentley Rhythm Ace perhaps previously held sway. Dance music lead by syncopation of the drums and the groove and ever-changing sounds. Dance Music that is Fun… and dug by those of us who brought up on rock'n'roll perhaps.
The best thing about this album is that despite having an undeniable identity of its own, every single track is different to the one which precedes it. The titles are clues. (Goes for classic, track by track run-down, because I haven't done one for a while…)
Octavius – Some Roman style trumpets herald the stately arrival before vocoder-ed vocals, background toasting, moog and bongos gentley suck you in with a mid-tempo groove, before it goes a bit spy-theme-in-dub.
Googa Mama – is the most Fat-Boy Slim -a floor-filler with a touch of Austin Powers and Betty Boo. Knock-out.
Vacation in Westworld – Ennio Morricone goes Acid Jazz in space. Great bass and operatic vocal backing. Some beautiful big burbles of Moog before a Hammond interlude. This is a fine, fine piece of music. Four minutes fifty-two of perfection.
Jan Hammer of the Gods – Gene Krupa meets Giorgio Moroder via Magic Fly and Jimmy Smith. I know it sounds strange, but its great.
Moog Maximus – Moody, cinematic, plaintive electric piano and phlanged synths to begin, before turning all Portishead play John Barry. Hip-hop noir almost with a touch of Shangri-La's melodrama.
B-Boy Toga Party A bit Beastie Boys this one, at their most funky … have a listen.
Boudica Rides Again – Widescreen operatic film-theme -classical bits and a very Dave Greenfield bit of Stranglersy moog. Starts with whip-cracks and ends with bongo's and keys lifting off into space
Londinium Calling – Squelchy synth on a straight forward Swinging Sixties type number – Booker T / Northern Soul.
Mr Woo – Return of the novelty female vocalist(s) – is it Shampoo? More Better Living Through Chemistry type stuff really, on possibly the weakest track on a near perfect album. Could've been trimmed by a minute.
Ritmo do Rio – A Brazilian vibrophonic bongo-fest this one with great bass and light Hammond stabs with Moog squiggles used sparingly. Beat crazy. Watch that beatnik go!
Kids Love Moogs – Bizarre! Like a theme tune to a Kids TV programme from the 70's. The Double-Deckers on E? the Blue Peter team get off they nut and go Go-Go dancing!??
Aries and Scorpio – Like a Big Beat version of Add N to X – a Thunderbirds in Dub remix ! Yeah baby, that good!
Well, if that hasn't confused you, then nothing will. It's a wonderful album, which despite verging on novelty (mainly the video, song-titles and ' image' – a touch of Deee-lite) is a serious yet ger-oovy set of tunes, marrying TV themes, 70's weirdness like Space and the Rah-Band to Mod dance music -via Big Beat and Acid Jazz.
If there's one album to dance away the post-Brexit blues, then this is it.
Buy the album here. Official website
All words by Ged Babey whose author profile is here.