PopJunkie: David Woodcock and his English pop masterpiece – Debut Album Review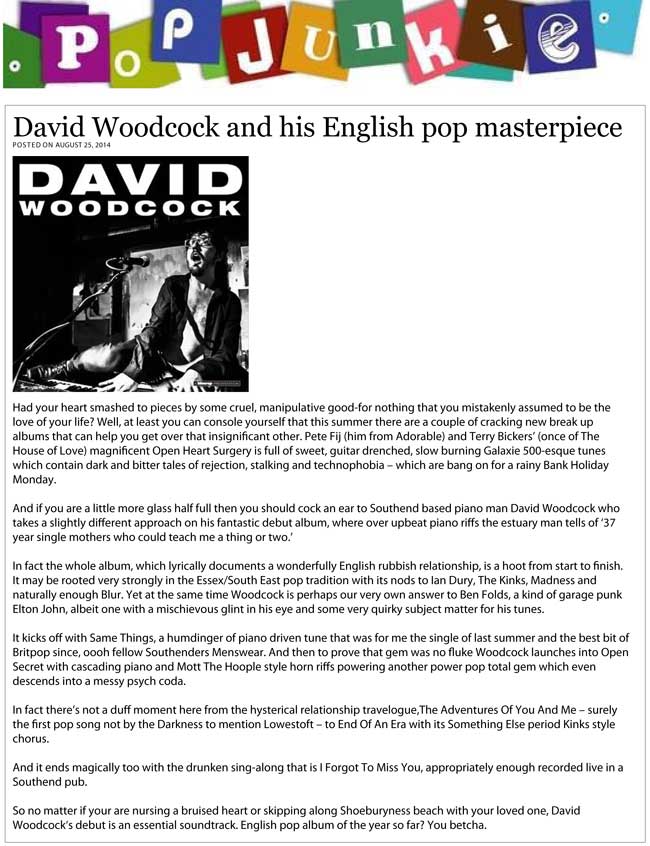 Published on 25th August 2014 (UK)
Media title : PopJunkie
Had your heart smashed to pieces by some cruel, manipulative good-for nothing that you mistakenly assumed to be the love of your life? Well, at least you can console yourself that this summer there are a couple of cracking new break up albums that can help you get over that insignificant other. Pete Fij (him from Adorable) and Terry Bickers' (once of The House of Love) magnificent Open Heart Surgery is full of sweet, guitar drenched, slow burning Galaxie 500-esque tunes which contain dark and bitter tales of rejection, stalking and technophobia – which are bang on for a rainy Bank Holiday Monday.
And if you are a little more glass half full then you should cock an ear to Southend based piano man David Woodcock who takes a slightly different approach on his fantastic debut album, where over upbeat piano riffs the estuary man tells of '37 year single mothers who could teach me a thing or two.'
In fact the whole album, which lyrically documents a wonderfully English rubbish relationship, is a hoot from start to finish. It may be rooted very strongly in the Essex/South East pop tradition with its nods to Ian Dury, The Kinks, Madness and naturally enough Blur. Yet at the same time Woodcock is perhaps our very own answer to Ben Folds, a kind of garage punk Elton John, albeit one with a mischievous glint in his eye and some very quirky subject matter for his tunes.
It kicks off with Same Things, a humdinger of piano driven tune that was for me the single of last summer and the best bit of Britpop since, oooh fellow Southenders Menswear. And then to prove that gem was no fluke Woodcock launches into Open Secret with cascading piano and Mott The Hoople style horn riffs powering another power pop total gem which even descends into a messy psych coda.
In fact there's not a duff moment here from the hysterical relationship travelogue,The Adventures Of You And Me – surely the first pop song not by the Darkness to mention Lowestoft – to End Of An Era with its Something Else period Kinks style chorus.
And it ends magically too with the drunken sing-along that is I Forgot To Miss You, appropriately enough recorded live in a Southend pub.
So no matter if your are nursing a bruised heart or skipping along Shoeburyness beach with your loved one, David Woodcock's debut is an essential soundtrack. English pop album of the year so far? You betcha.