The Quietus News Baltic Fleet Win GIT Awards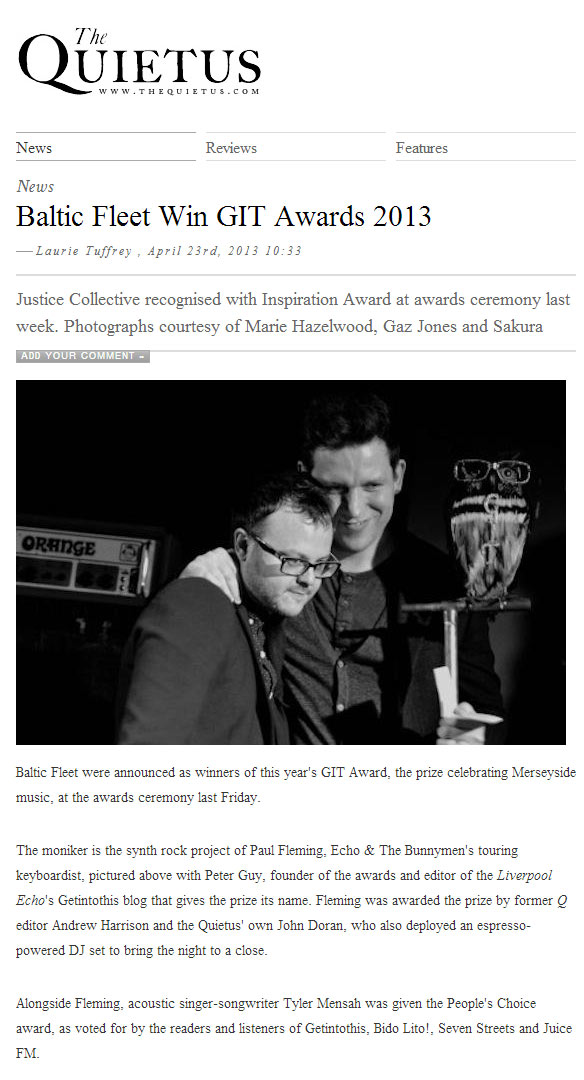 Published on 23rd April 2013 (UK)
Media title : The Quietus
Author : Laurie Tuffrey
Baltic Fleet were announced as winners of this year's GIT Award, the prize celebrating Merseyside music, at the awards ceremony last Friday.
The moniker is the synth rock project of Paul Fleming, Echo & The Bunnymen's touring keyboardist, pictured above with Peter Guy, founder of the awards and editor of the Liverpool Echo's Getintothis blog that gives the prize its name. Fleming was awarded the prize by former Qeditor Andrew Harrison and the Quietus' own John Doran, who also deployed an espresso-powered DJ set to bring the night to a close.
Alongside Fleming, acoustic singer-songwriter Tyler Mensah was given the People's Choice award, as voted for by the readers and listeners of Getintothis, Bido Lito!, Seven Streets and Juice FM.