Blow Up Presents Exclusive Blend Volumes 1 & 2 Go Digital
Published on 9th October 2012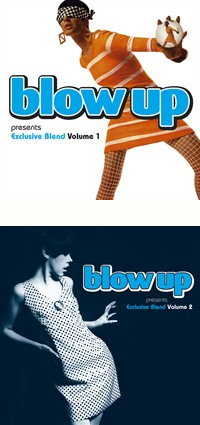 For the first time ever Volumes 1 & 2 of the Blow Up presents Exclusive Blend Series are available for download from iTunes, Amazon, Napster, eMusic and more….
Don't forget, both have recently been reissued on LP (& CD) too if you'd rather get your hands on some vinyl – from all good stores, as well as Blow Up Records mail order
Blow Up presents Exclusive Blend Volume 1 sees Paul Tunkin, DJ & founder of Blow Up club, taking us on a journey deep into the vaults of the KPM music library. Originally released in 1996, the Blow Up Exclusive Blend series were one of the first commercial introductions to Music Library and the twilight world of the session man. Volume 1 features the cream of the KPM Music Library writers including Keith Mansfield, Alan Hawkshaw, Alan Parker and Johnny Pearson, From the pounding up-tempo of 'Move, Move, Move' through the Hammond-heavy 'Beat Me 'Til I'm Blue' and 'Rocky Mountain Runabout' (versions of both featuring on the legendary Mohawks 'The Champ' album) to the sitar 60s club sound of 'Delhi Discotheque' and 'Come here Calcutta'. Most of these tracks had never been commercially available before this release.
Blow Up presents Exclusive Blend Volume 2 sees Blow Up's Paul Tunkin entering the vaults of De Wolfe, Amphonic and once again KPM. As with a bulk of Exclusive Blend 1, many of these tracks were receiving their first commercial airing on this album's release. Originally released in 1997, the album also introduced James Clarke's Wild Elephants to the world, which was later retitled 'Blow Up A-Go-Go' as a thankyou from the writer and became the title track for the successful V2 / Blow Up compilation 'Blow Up A-Go-Go! Dancefloor Classics from The Legendary Blow Up Club'. This album includes tracks from many great music library theme writers including Keith Mansfield, Alan Hawkshaw, Syd Dale, and Alan Moorhouse.
Hipper-than-hip selection of TV/film music from Blow Up Uncut
Cool, punchy rarities. Dance music for Get Carter fans Musik
A musical goldmine
The Independent On Sunday
links…
myspace.com/exclusiveblend