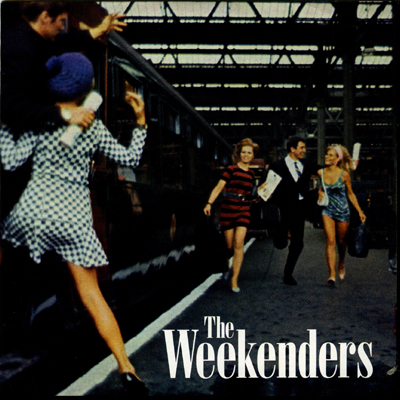 The Weekenders Man Of Leisure released on this day 1995.
6th Mar 2021
The Weekenders second single and the second release on Blow Up Records (Blow Up 002) was released on this day 1995. Format 7″ single.
"And to have no time for common types like you, like you and me"
Man Of Leisure (A Side) World Of His Own (AA Side).
Recorded in January 1995 at Chiswick Reach Studios by Vic Keary. Band members Paul Tunkin Vocals, James Hender guitar, Chris Remington bass guitar, Steve Smith Drums,
The band had previously recorded both the songs in January 1994 on the 8-track tape machine with Vic Keary at Chiswick Reach Studios, when they recorded their first studio session of eight songs day. Some of the recordings from these sessions were released, All Grown Up, House Husband became the bands first single, Seem's You Missed Sunday was released on the Fierce Panda Records EP Return To Splendour and In Love With It All a bonus vinyl only release on the compilation That Was Now But This Is Then.
Returning a year later to the same studio with Vic Keary again producing and two of the songs again from the previous session but this time using the 24 track machine to record. Vic actually always prefered the 8-track one inch machine but the band wanted to record new recordings for the single. Steve Diggle from Buzzcocks joined the band in the studio, a musicial talisman preciding over the procedings and lending the band an ace guitar to record with.
Mal Campbell played the studio grand piano for which he placed various cutlery across the strings to get that old music hall sound, also using a Roland SH3A a synth which was on longtime loan to the group from Terry Herbert (The Ladykillers).
Songs written by Paul Tunkin. Arranged by The Weekenders.
Published by Blow Up Songs. Mastered by George Peckham – A Porky Prime Cut Cat Number – BLOWUP002.
This was the first single that Blow Up Records released via a record distributer – SRD (Southern Record Distributors).
The initial pressing had a photo of a pooch with necklace on the centre label, this was left over from an earlier abandoned artwork, the second pressing a black and white silhouette of the characters running for the train from the front sleeve. The single was a limited edition 7″ which sold out on its week of release and was not repressed. The tracks were later compiled onto an export only (for Japan) singles compilation album – 'That Was Then But This Is Now' released in January 1996. Very limited stock is left of this release currently only available from the Blow Up shop – https://blowup.greedbag.com/buy/that-was-now-but-this-is-then-4/