Big Boss Man Spain & France Tour Dates 2010
Published on 9th November 2012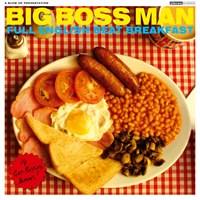 Big Boss Man return once again to Spain with an 11 date tour this March including Madrid, Barcelona, Alicante, Leon and more. See all dates here to see if they're coming to a town near you. They'll also be paying a visit to France in April (St. Nazaire) and June at the annual 'Riviera Affair '60s Mod Weekend' in Nice.
They'll be performing tracks from their first 2 albums Humanize and Winner, and from their critically acclaimed new album Full English Beat Breakfast!
"Excellent" Mark Lamarr, BBC Radio 2
"The Sgt Pepper of boogaloo" music 4/5, sonic 4/5 Hi-Fi Choice
"Effortlessly hip" 4 stars – Echoes
"Their best album yet " 4 stars – Record Collector
"Big Boss Man are back and groovier than ever" 7/10 Clash
"14 scorching hot tracks here" Scootering 'Recommended Listening'
"Will knock you flat on your back and boogaloo a victory lap"
7/10 Loud & Quiet
"Perennial party starters Big Boss Man are back with their third album. For loud'n'proud modish club soul, this is it!" Shindig!
"Big Boss Man — returning to blow our minds with an excellent dish on Blow Up Records! As loveable as anything they've done to date" Dusty Groove
read more…
big boss man
past releases
reviews
live: big boss man tour dates…
myspace: myspace.com/bigbossmanmyspace