New Big Boss Man Album 'Full English Beat Breakfast' out now!
Published on 9th November 2012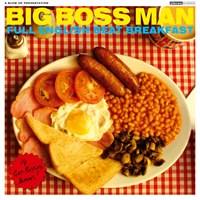 New Big Boss Man 'Full English Beat Breakfast' – out now!
The long-awaited 3rd album fromBig Boss Man
Blow Up is pleased to announce that the long awaited third album from Big Boss Man – 'Full English Beat Breakfast' is now out. Its another superb spaced-out selection of prime 60's inspired dancefloor tracks– available on CD, a lovely vinyl LP and as a download from all good retailers.
"Excellent" Mark Lamarr, BBC Radio 2
"The Sgt Pepper of boogaloo – and you can't go without breakfast, can you?"
music 4/5, sonic 4/5 Hi-Fi Choice
"It's one of those albums where you wished you were the drummer, or had thought of the concept first!"
5/5 Drummer Magazine
"Effortlessly hip" 4 stars – Echoes
"Their best album yet " 4 stars – Record Collector
"Big Boss Man are back and groovier than ever. If Charlie Croker from The Italian Job was still alive – he would be dancing to this, and recommendations don't come any better than that!" 7/10 Clash
"We've got 14 scorching hot tracks here. It's all good I promise you, and then some. This is an album you most definitely should own and one which other musicians will be jealous of" Scootering 'Recommended Listening'
"Will knock you flat on your back and boogaloo a victory lap"
7/10 Loud & Quiet
"Perennial party starters Big Boss Man are back with their third album. For loud'n'proud modish club soul, this is it!" Shindig!
"Big Boss Man — returning to blow our minds with an excellent dish on Blow Up Records! The Boss has been tearing it up for years now with a blend of organ heavy grooves, funky drums, vamping guitars and even some occasional vocals — and Full English Beat Breakfast is as loveable as anything they've done to date" Dusty Groove
DOWNLOAD ….


read more…
big boss man
past releases
reviews
live: big boss man tour dates…
myspace: myspace.com/bigbossmanmyspace