David Woodcock La Vieille Ville video premier today at 7pm GMT via You Tube.
Published on 11th February 2022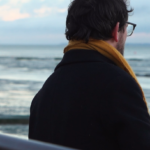 The official video for La Vieille Ville by David Woodcock premieres tonight via You Tube from the Blow Up Records You Tube channel. Tune in at 7pm: https://youtu.be/5NhLATuh3JA

The video was filmed and edited by Joe Blamey and Danny Flynn and was shot in the old town itself of Leigh-on-Sea.

La Vielle Ville is a French language new recording of David's song Old Town, the song which closed David's second album Normal Life.