David Woodcock to release Old Town on Christmas Eve.
Published on 30th November 2021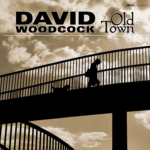 Old Town the final track of David Woodcock's Normal Life album will be released as a single on Christmas Eve. It will also feature a brand new recording of Old Town, a French version titled La Vieille Ville.
La Vieille Ville was recorded and produced by Joe Lamb and David Woodcock at London Road Studios Leigh-on-Sea and was mixed by Kevin Feazey in London. David performs all instruments except double bass which was performed by Paul Ambrose. Oliver Rouff wrote the French interpretation of the Old Town lyric.