Stereo Total 'Yéyé Existentialiste' London Launch Shows
Published on 14th April 2015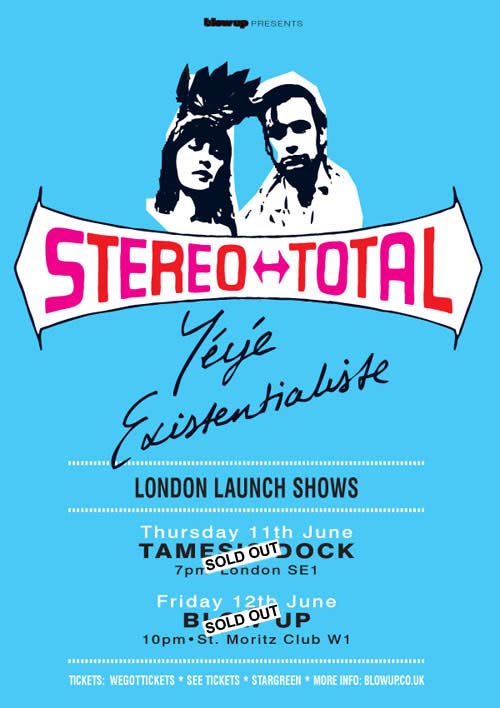 STEREO TOTAL return to London for the first time in two years for two shows to celebrate the release of their new compilation 'Yéyé Existentialiste' on Blow Up Records this Summer.
The first date on Thursday 11th June is an early evening show on the Tamesis Dock – a converted 1930s Dutch barge moored between Lambeth and Vauxhall bridge, with views of Parliament and Big Ben.
Followed by a second date on Friday 12th June, when Stereo Total will return to Blow Up for a show at St. Moritz Club in Soho.
"New wave art-pop pioneers – the Sonic Youth of the electropunk world"Time Out (Eddy Lawrence, 2009)
"Scuzzy, mischievous, exhilarating avant-garde pop, spliced with punk and garage and impeccably dressed in thrift-store chic"The Guardian (Maddy Costa, 2000)
"Joyously irreverent"Spin (Ethan Smith, 1999)
"Infectious pop melodies" Pitchfork (Christopher F. Schiel, 2002)
"The UN of avant garde pop"The Guardian (Betty Clarke, 2002)
"Pure pop thrills"The Guardian (Everett True, 2008)
"Stereo Total can't resist the charm of the primitive"New York Times (Jon Pareles, 2005)
Yéyé Existentialiste – a compilation of the recording highlights of one of the world's greatest exponents of lo-fi pop – Stereo Total. Stereo Total is the Berlin based French-German duo Françoise Cactus and Brezel Göring, whose playful eclectic music incorporates anything from New Wave, Pop Electronique, 60's French pop mashed up with trashy garage Punk Rock and Disco to form the band's distinctive sound:"We've got a special sense of aesthetic. Cheap and cheesy, but still cool and chic."
'Yéyé Existentialiste' has been compiled by Paul Tunkin in conjunction with Cactus and Brezel for Blow Up Records. The double album (released on heavyweight double LP, CD and digital) features 28 recordings that span their twenty year career: including tracks from their first album 'Oh Ah' (1995) to their last studio album 'Cactus vs Brezel' (2012). It also includes one exclusive new mix by the band themselves – 'Everybody In The Discotheque (Blow Up mix)'.