Cat. No: BU060
UK release date: 05/09/2011
Formats: CD, LTDLP, DIGITAL
Status: Out Now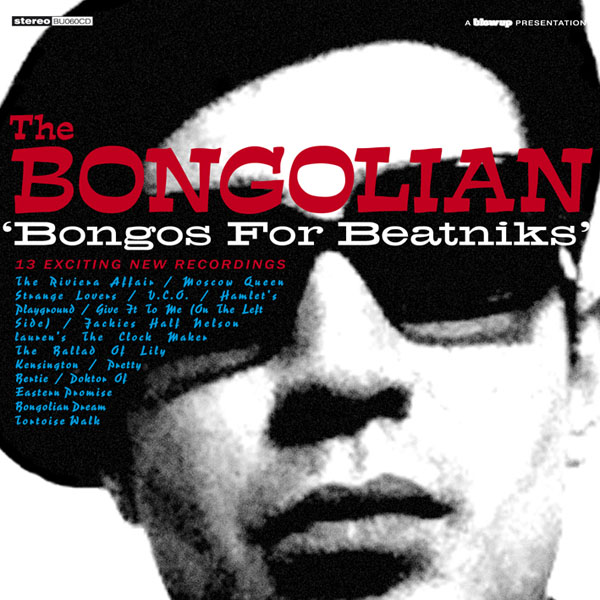 The Riviera Affair
Moscow Queen
Strange Lovers
V.C.O.
Hamlet's Playground
Give It To Me (On The Left Side)
Jackies Half Nelson
Lauren's The Clock Maker
The Ballad Of Lily Kensington
Pretty Bertie
Doktor Of Eastern Promise
Bongolian Dream *CD only
Tortoise Walk
1st 1000 pressing of LP with limited poster.
'Bongos For Beatniks' sees the welcome return of The Bongolian, AKA multi-instrumentalist and Big Boss Man front man Nasser Bouzida. His fourth album under The Bongolian moniker continues the musical journey where 2007's Outer Bongolia left off, bringing us back down to Earth possibly via France circa 1967 via 2011, in a wildly eclectic rare groove fusion of Funk Soul Hammond Beat Jazz and a Sci-Fi Boogaloo. Dig it.
The first single to be taken to radio from the album 'The Riviera Affair' (Feburary 2011) was featured on BBC 6 Music Nemone's Lunchtime Loves where Nemone interviewed Nasser before the sell-out Blow Up HMV Next Big Thing concert that evening. Receiving other radio support from Gideon Coe and Craig Charles also at BBC 6 Music, and proving a strong favourite with club DJ's around the UK.  The track was also featured as a Sky Sports Soccer AM track of the week.  The second single 'Give It To Me (On The Left Side)' the furiously paced bongo-crazed Hammond happening also received good radio play ahead of the album release, both singles along with many album tracks are proving strong favourites on the Blow Up club dance floor.
Over a decade ago Nasser Bouzida disappeared into his studio and created a solo set of recordings which resulted in the birth of his alter ego The Bongolian. Drawing on his influences of Funk, Soul and Jazz, Nasser produced an inspired selection of recordings underpinned by grinding percussion and heavy Bongo rhythms.  The eponymous debut 'The Bongolian' was released early in 2002 to much critical acclaim, and was followed by the albums 'Blueprint' (2005)  and by 'Outer Bongolia' (2007) which also scored a licensing deal with KSR Records in Japan. The albums have become record box essentials for DJs, finding a wide appeal from Dance, Hip-Hop, rare groove and funk 45s fans.  Nasser has assembled a high calibre five piece live band to take The Bongolian on the road, where they have toured USA, UK and Europe. Whilst the recordings are still a solo affair still being created by himself in the studio.
In 2012, the debut album from Fay Hallam & The Bongolian 'Lost In Sound' was released on Blow Up Records. A collaboration between the two artists, with Nasser Recording,  performing and arranging alongside Fay Hallam who wrote the albums songs.
NEWS
28th Jul 2023
4th Nov 2022
16th Sep 2022
15th Sep 2022
10th Aug 2022
21st Jul 2022
14th Jul 2022
12th Jul 2022
11th Feb 2022
30th Nov 2021
16th Jul 2021
3rd Jul 2021
2nd Jun 2021
10th Mar 2021
9th Mar 2021
6th Mar 2021
23rd Dec 2020
23rd Dec 2020
21st Dec 2020
20th Dec 2020
18th Dec 2020
16th Dec 2020
11th Nov 2020
1st Oct 2020
28th Nov 2013
15th Jul 2012
6th Sep 2011