Blow Up Easter Special feat. The Bongolian & Silvery
Published on 9th June 2011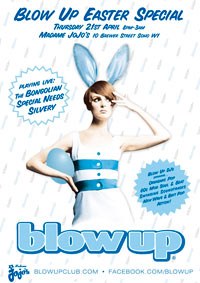 Blow Up Easter Special feat. The Bongolian & Silvery
Thursday 21st April
Following February's sell-out Blow Up HMV Next Big Thing night, Blow Up returns to its one-off events with an Easter Special at Madame JoJo's on Thursday 21st April featuring Blow Up artists The Bongolian and Silvery.
The Bongolian's 4th album is released on Monday 9th May, but if you can't wait that long you can download the debut single 'The Riviera Affair' which was recently featured on Lunchtime Loves on BBC 6music, and also Sky Sports Soccer AM's track of the week.
Plus resident Blow Up DJs Paul Tunkin & Ian Jackson will also be spinning their trademark mix of Orgasmic Pop / 60s Mod & Soul / New Wave. Expect to hear a selection of British Pop from Beatles to Bowie to Blur alongside 60s Soul, Garage, Ska, Beat, Latin Soul, Swinging Soundtracks, YeYe and Psychedelic Pop Electronique.