The Bongolian 'Bongos For Beatniks' – the 4th album out now
Published on 9th June 2011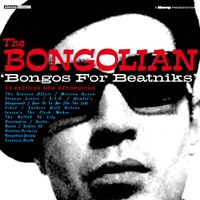 ORDER NOW* from the official shop on CD & LP
*Shipping Worldwide!
plus all good shops including:
Cargo Collective store around the UK / JBs / Dusty Groove / Norman / Phonica / Piccadilly / Rough Trade / Sister Ray / Sounds Of The Universe / amazon.co.uk hmv and more…
download from : iTunes
BONGOS FOR BEATNIKS the long-awaited 4th album from The Bongolian continues the musical journey where 2007's Outer Bongolia left off, bringing us back down to Earth possibly via France circa 1967 via 2011, in a wildly eclectic rare groove fusion of Funk Soul Hammond Beat Jazz and a Sci-Fi Boogaloo.
The first single from the album 'The Riviera Affair' was recently featured on BBC 6music Nemone's Lunchtime Loves (alongside plays from Gideon Coe and Craig Charles) and was also Sky Sports Soccer AM's track of the week.
"A bakers dozen of gems. Bongo powered grooves at their very best. Preston Epps eat your heart out" SCOOTERING 'RECOMMENDED'