Cat. No: BU101
UK release date: 10/02/2015
Formats: CD, LTDLP, DIGITAL
Status: Out Now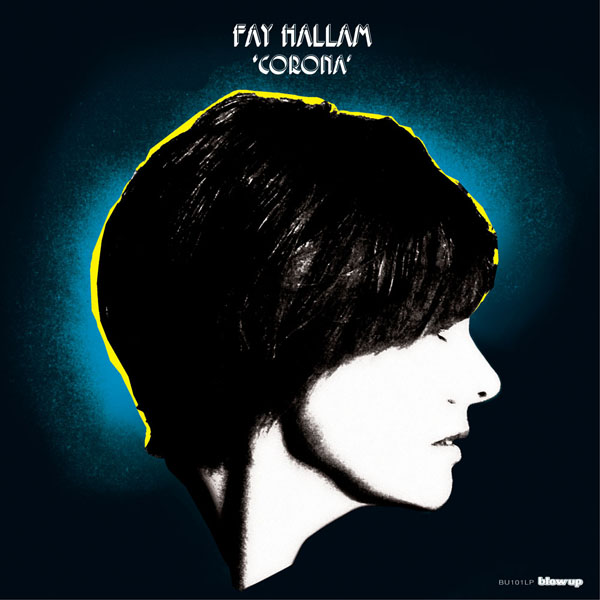 Se Mi Ami
Sunny
Soul Revolution
Arco
1000 Blue Ribbons
Beck
Lido
Let Me Into Your Soul
Giving Myself Away
Maybe I'm Amazed
Without A Smile
Summer's Love
Stars
Following 'Lost In Sound', Fay Hallam's acclaimed collaboration with The Bongolian, Fay returns to Blow Up Records for a new solo album 'Corona'.
Fay wrote the majority of the songs in a two day whirlwind writing session after returning from a tour of Italy, which ultimately inspired this atmospheric eclectic album. 'Corona' has absorbed Fay's love for the Bossa Nova of Antonio Carlos Jobim and Astrud Gilberto, the experimental productions of the Carpenters and the eclecticism of Beck. There's even a nod to the 50's pop of Frankie Laine with 'Giving Myself Away' and a sole cover: Paul McCartney's classic 'Maybe I'm Amazed' joins the new set of songs.
With thoughts still fresh of driving through the Alps and soaking up the ambience, the songs took on a reflective mood displaying a softer, more atmospheric side to Fay's music. An almost nocturnal feel prevails at times, exemplified by album opener 'Se mi Ami', perfect for late night listening, whilst her love for Soul and Rhythm & Blues still shines through on songs such as 'Let Me Into Your Soul' and 'Sunny'
Originally from Wolverhampton, vocalist and keyboard player Fay Hallam has performed over the years in acts such as Makin' Time (with a pre-The Charlatans Martin Blunt), The Prime Movers, Phaze and The Fay Hallam Trinity. She has worked with Billy Childish, Graham Day, Alan Crockford and other luminaries of the Medway Scene where she has lived for many years. She has toured the UK and Europe extensively.
CREDITS: 'Corona' was produced, recorded and arranged by Fay, with the accompaniment of her group of long time trusted musical collaborators for the performances. Recording took place over several months at various locations with additional production and mixing by Kev Feazey.
NEWS
28th Jul 2023
4th Nov 2022
16th Sep 2022
15th Sep 2022
10th Aug 2022
21st Jul 2022
14th Jul 2022
12th Jul 2022
11th Feb 2022
30th Nov 2021
16th Jul 2021
3rd Jul 2021
2nd Jun 2021
10th Mar 2021
9th Mar 2021
6th Mar 2021
23rd Dec 2020
23rd Dec 2020
21st Dec 2020
20th Dec 2020
18th Dec 2020
16th Dec 2020
11th Nov 2020
1st Oct 2020
18th Aug 2015
20th Jul 2015