Cat. No: BU099
UK release date: 06/08/2015
Formats: CD, DLP, DIGITAL
Status: Out Now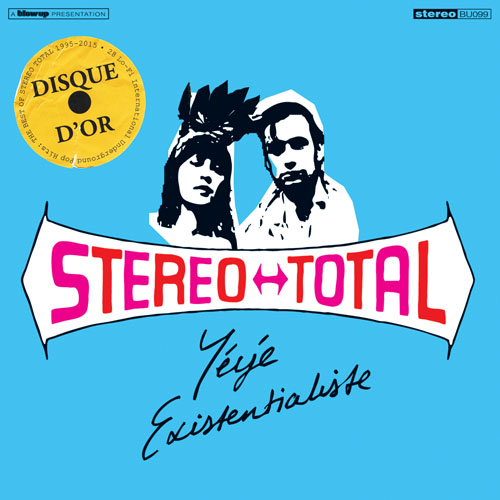 I Love You ONO
Musique Automatique
Heroes
Pixelize Me
Everybody In The Discotheque (I Hate) – Blow Up Mix
Alaska
Do The Bambi
Comme Un Garçon
Relax Baby Be Cool
Wir Tanzen Im 4-eck
Cafétéria Idéale
Schön Von Hinten
L'Amour À Trois
C'est La Mort
Push It
LA, CA, USA
Holiday Innn
Ich Bin Nackt
Partir Ou Mourir
Cosmonaute
Ich Bin Der Stricherjunge
Miau Miau
Für Immer 16
Dactylo Rock
Die Frau In Der Musik
Comicstripteasegirl
Heaven's In The Back Seat Of My Cadillac
Les Minets
180g Double Vinyl with Gatefold Sleeve, Printed liner notes by Stereo Total + DL Code // CD with fold out booklet with printed liner notes & Lyrics // Early orders of LP & CD from Blow Up shop include limited signed postcard.
Blow Up presents Yéyé Existentialiste – a compilation of the recording highlights of one of the world's greatest exponents of lo-fi pop – Stereo Total. 

EARLY ORDERS FROM THE BLOW UP SHOP HERE (LP & CD) COME WITH A LIMITED POSTCARD SIGNED BY THE BAND >>
Format Details:
Double 180g Heavy Weight LP in Gatefold Sleeve with printed liner/lyric inner sleeve + Download Code – Pre-Order

CD with fold-out liner/lyric booklet – Pre-Order
Digital

Stereo Total is the Berlin based French-German duo Françoise Cactus and Brezel Göring, whose playful eclectic music incorporates anything from New Wave, Pop Electronique, 60's French pop mashed up with trashy garage Punk Rock and Disco to form the band's distinctive sound:"We've got a special sense of aesthetic. Cheap and cheesy, but still cool and chic."
'Yéyé Existentialiste' has been compiled by Paul Tunkin in conjunction with Cactus and Brezel for Blow Up Records. Stereo Total were always a favourite act to book for Tunkin who has promoted shows with the band in London since the 90s at various locations for his Blow Up club night. He approached the band about a new compilation album and now here we are… The double album (released on heavyweight double LP, CD and digital) features 28 recordings that span their twenty year career: including tracks from their first album 'Oh Ah' (1995) to their last studio album 'Cactus vs Brezel' (2012). It also includes several new mixes including a radically reworked – 'Everybody In The Discotheque (I Hate) –  (Blow Up mix)'. Both CD and Vinyl contain new liner notes about the tracks contained and lyrics. All the recordings have been re-mastered by Noel Summerville at 33/45 Mastering London.
NEWS
28th Jul 2023
4th Nov 2022
16th Sep 2022
15th Sep 2022
10th Aug 2022
21st Jul 2022
14th Jul 2022
12th Jul 2022
11th Feb 2022
30th Nov 2021
16th Jul 2021
3rd Jul 2021
2nd Jun 2021
10th Mar 2021
9th Mar 2021
6th Mar 2021
23rd Dec 2020
23rd Dec 2020
21st Dec 2020
20th Dec 2020
18th Dec 2020
16th Dec 2020
11th Nov 2020
1st Oct 2020
30th Apr 2015
30th Apr 2015
14th Apr 2015