Full English Beat Breakfast
Cat. No: BU050
UK release date: 09/07/2009
Formats: CD, LP, DIGITAL
Status: Out Now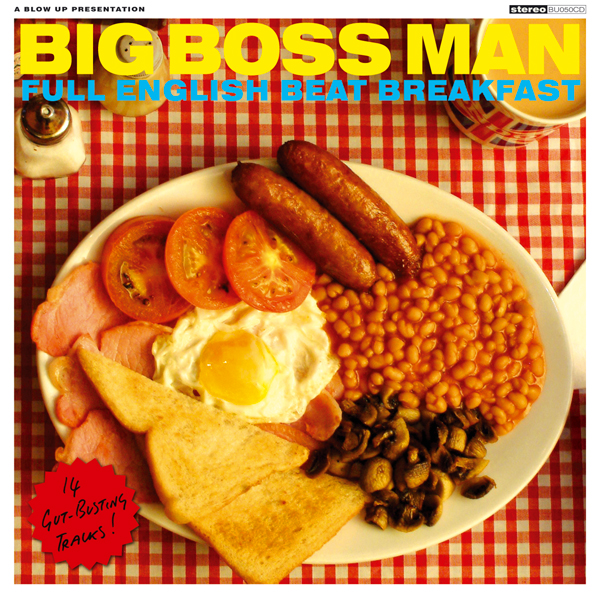 Triumph Of The Olympian
Beat Breakfast
Black Eye (I Believed In Love)
Full Brazilian
C'est Moi
Clown Face
VIP 233
Hairy Mary
Pies And Pastiche
Vampyros Twist
Trilby Of Fun
Slap Head's Demise
The Bloater
Luna 2
Vinyl is extra tasty!
Big Boss Man released their third album 'Full English Beat Breakfast' in September 2009. Recorded by the band at their Ramshackle studio and mixed by Nick Terry (Klaxons, SMD) at Studio 2 at The Premises, Hackney, London.
Making good use of their extensive collection of vintage (and temperamental) gear for Full English Beat Breakfast. Head honcho Nasser (a.k.a the Bongolian) plays mini-VIP, Farfisa and Hammond organs, Wurlitzer piano, Moog synths and drums and percussion. Whilst driving fuzz guitar and bass beat is provided by bassman Scott Milsom "the Hawk" and guitarist Trev Harding. The band once again created a superb spaced-out selection of prime 60's inspired dance floor tracks: Northern Soul vibes with 'Black Eye', garage sounds with 'The Bloater', Boogaloo with 'Pies and Pastiche' and even samba with 'Full Brazilian'.
NEWS
28th Jul 2023
4th Nov 2022
16th Sep 2022
15th Sep 2022
10th Aug 2022
21st Jul 2022
14th Jul 2022
12th Jul 2022
11th Feb 2022
30th Nov 2021
16th Jul 2021
3rd Jul 2021
2nd Jun 2021
10th Mar 2021
9th Mar 2021
6th Mar 2021
23rd Dec 2020
23rd Dec 2020
21st Dec 2020
20th Dec 2020
18th Dec 2020
16th Dec 2020
11th Nov 2020
1st Oct 2020
26th Oct 2018
9th Nov 2012
9th Nov 2012