Cat. No: BU090
UK release date: 09/01/2014
Formats: CD, LTDLP, DIGITAL
Status: Out Now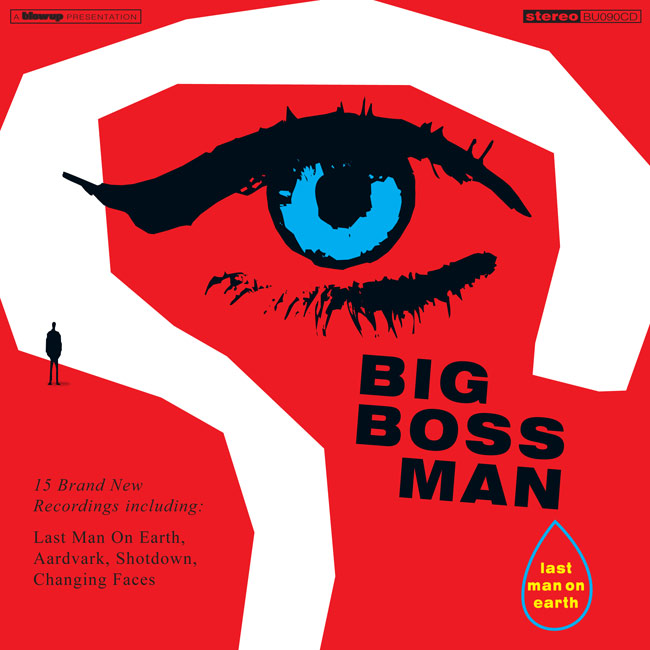 Theme From Last Man On Earth
Aardvark
Blow Your Own
Last Man On Earth Feat. Princess Freesia
Hail Caesar
Changing Faces Feat. Al Greener
Bombay Mix
Crimson 6T's
The Bear
Project No.6
Le Dernier Homme Sur Terre
Shot Down
Trans Adonis
Painted Rainbow Feat. Princess Freesia
Sladey
180g Vinyl with DL Code. Early orders of LP & CD from Blow Up shop include limited signed postcard.
Blow Up Records presents 'Last Man On Earth' the fourth album from Big Boss Man: 15 brand new recordings from Jazz, Soul, Rhythm & Blues to Boogaloo, Funk, Psych Rock & more. Out September 1st on 180g Heavy-Weight Vinyl LP, CD & Digital (order here) and it's sounding extra tasty! 
The British four piece return with a new set of songs and recordings that take a fresh approach to the BBM sound – their hip hybrid of Latin, Jazz, Soul, Psych Rock and '60s/'70s drenched R&B is now expanded with the added dimension of a brass section and guest vocalists adding to the further sonic and rhythmic explorations from the band; taking us on a one heck of a brand new trip!
Includes the singleAardvark, a jazz dance floor filler, rush released fresh from the studio mix sessions back in April, that received strong radio support from BBC 6 Music and BBCRadio 2, including multiple spins by Craig Charles on his Funk & Soul Show, who declared that "I've been a big fan of Big Boss Man for many years. Big Boss Man 'Aardvark'. Double Groovy!" Additional radio plays came also from Gideon Coe, Tom Ravenscroft, Cerys Matthews, Chris Hawkins and Huey Morgan at the stations.
NEWS
28th Jul 2023
4th Nov 2022
16th Sep 2022
15th Sep 2022
10th Aug 2022
21st Jul 2022
14th Jul 2022
12th Jul 2022
11th Feb 2022
30th Nov 2021
16th Jul 2021
3rd Jul 2021
2nd Jun 2021
10th Mar 2021
9th Mar 2021
6th Mar 2021
23rd Dec 2020
23rd Dec 2020
21st Dec 2020
20th Dec 2020
18th Dec 2020
16th Dec 2020
11th Nov 2020
1st Oct 2020
2nd Feb 2015
26th Jan 2015
4th Oct 2014